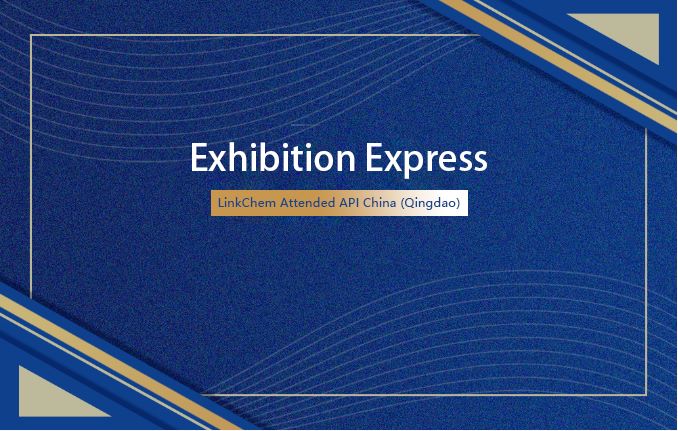 The 88th China International Pharmaceutical API/ Intermediate/ Packaging/ Equipment Fair (API China) and the 26th China International Pharmaceutical (Industry) Exhibition & Technical Exchange Conference (CHINA-PHARM) were successfully held in Qingdao Cosmopolitan Exposition International Exhibition Center on April 12-14, 2023. With the theme of "Innovation and Cooperation", the exhibition covered an area of 70,000 square meters and attracted more than 40,000 attendees. It focused on over 100,000 products in dozens of major categories and more than 300 sub-categories, including pharmaceutical APIs, pharmaceutical excipients, pharmaceutical packaging and pharmaceutical equipment. As the first professional exhibition in China's pharmaceutical industry in 2023, LinkChem participated in the event together with more than 1,000 domestic and overseas outstanding API enterprises, experiencing the new momentum emerging in the pharmaceutical industry and jointly promoting the pharmaceutical industry to a higher level.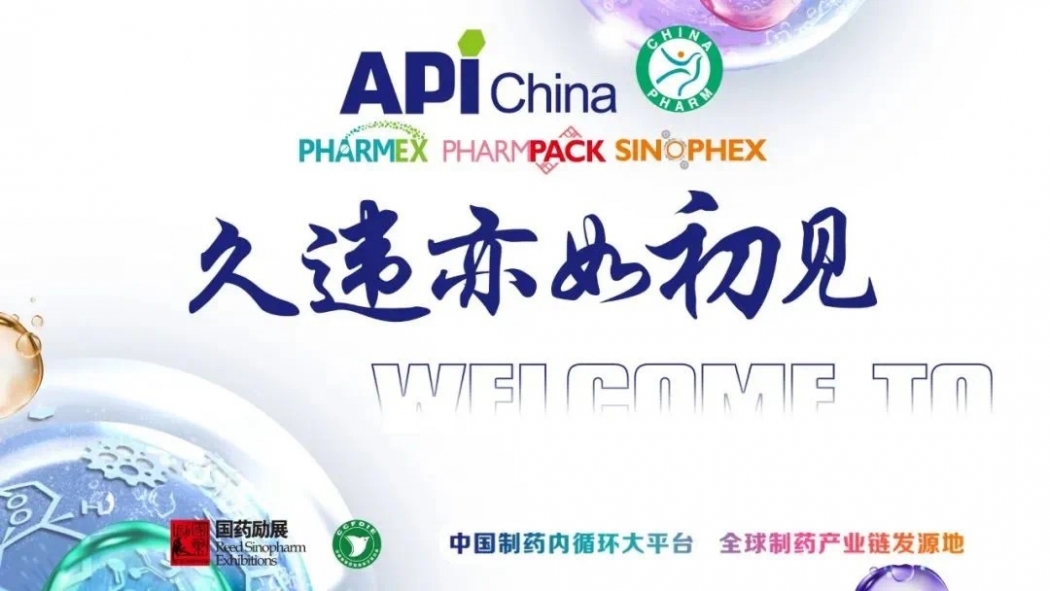 The special booth of LinkChem (Booth no. N6F01) was elegant and atmospheric, attracting the attention of many domestic and international visitors. An endless stream of new and old friends came to consult. These visitors showed interests in our platform advantages and one-stop solutions in the field of small molecule innovative drugs. The BD team talked with customers professionally and enthusiastically, discussed the market situation, and addressed customers' needs. They also introduced the company profile, product lists, and application scope in detail. Explore the development space, promote the win-win cooperation, and lay a solid foundation for further deepening cooperation!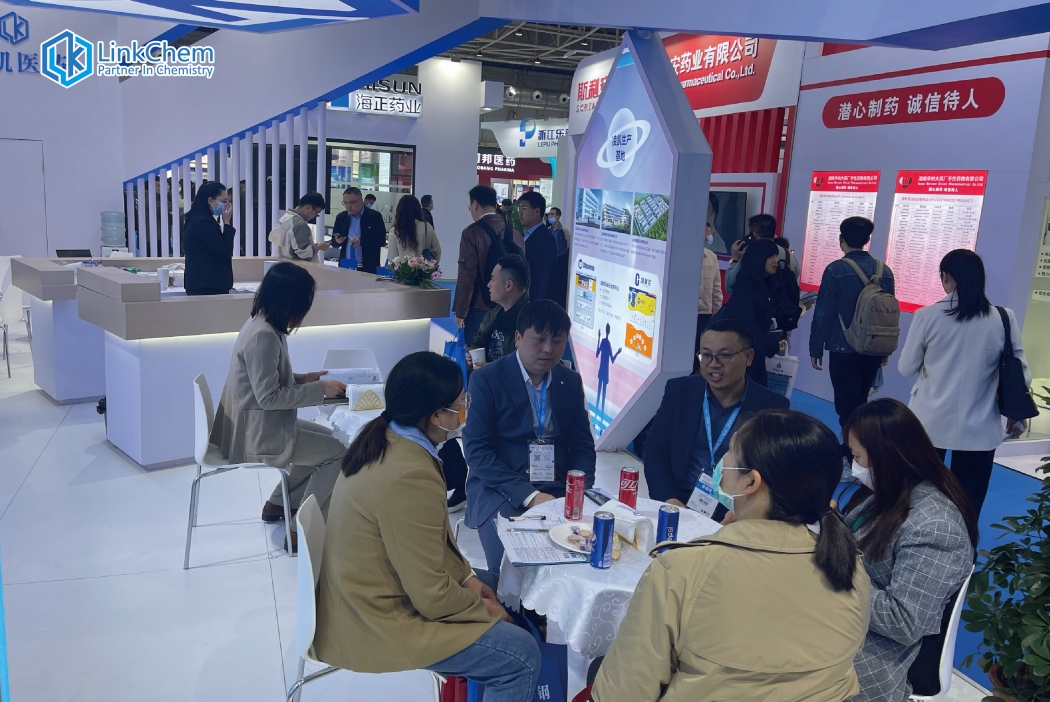 Many relevant government leaders, industry association leaders, industry experts, and heads of pharmaceutical companies were invited to give speeches and exchanged ideas in this event.
Mr. Zhishen Yang, General Manager of XFLow Chemistry, delivered a speech titled "Application of Continuous Flow in CDMO". From the perspective of flow chemistry and micro-reaction technology, he explained key features of flow chemistry and reaction equipment. The speech not only addressed the characteristics of different equipment of continuous flow laboratory, but also analyzed the industrialization scheme of flow chemistry and its application and advantages in various chemical reactions, which gained enthusiastic response from the audience.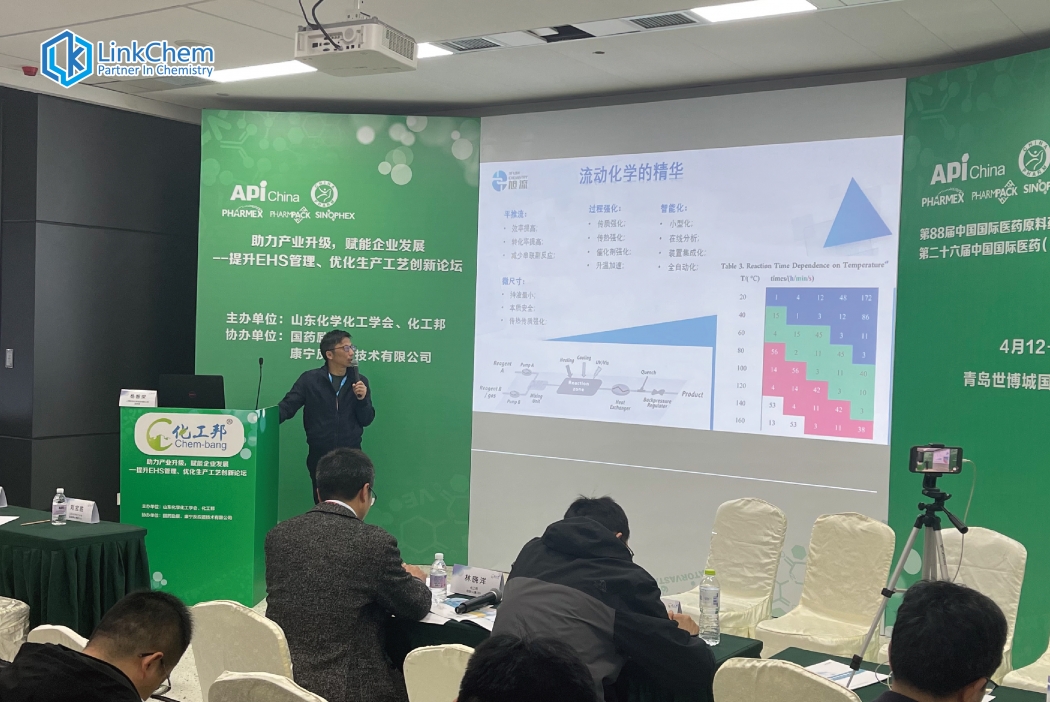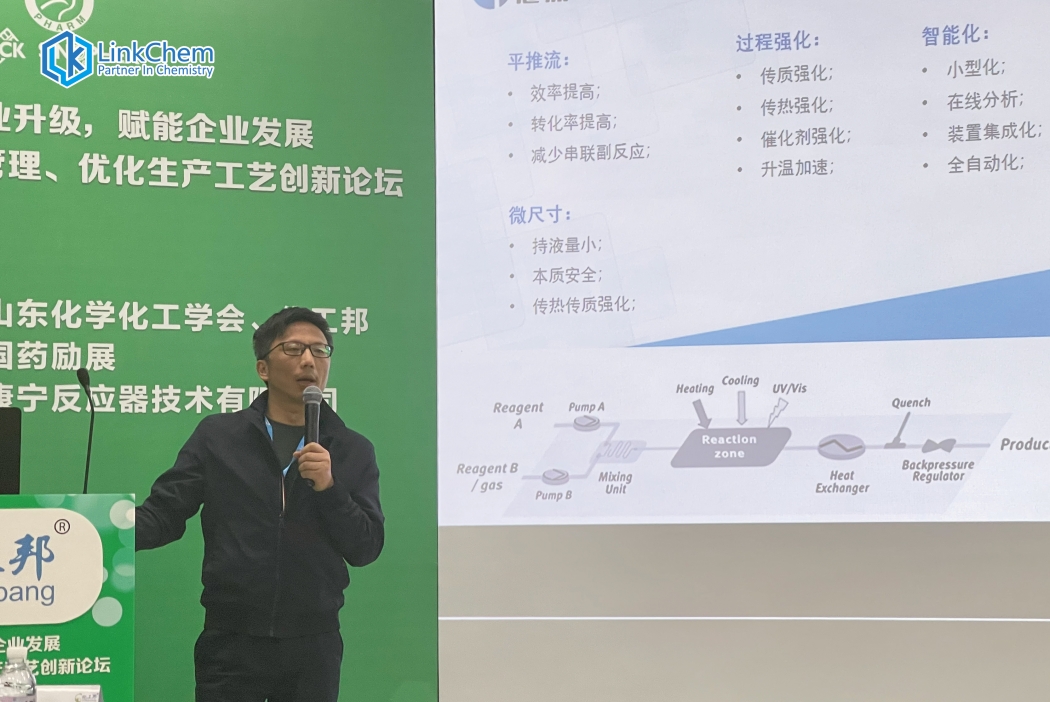 Every encounter is full of surprises! Every reunion is a treasure! LinkChem always insists on "science, rigor, innovation and cooperation" to provide customers with high quality products and services! We look forward to meeting you next time to discuss new ventures and win-win cooperation!
Thank you for your continuous support!
It was a great pleasure to see you here again!